You will be helped here. There often isn't much time during the production – good preparation and rapid help can be found here!

Regardless of whether on the phone or via e-mail - we are always there for you! Please select your region on the map and contact our employees for a personal appointment.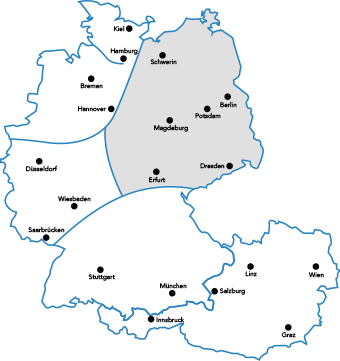 As a general principle, when renting a car in Germany, travelling to a western European country is permitted. When travelling to Eastern Europe and parts of southern Europe, it is imperative to first confer with us or the car rental company.
With vehicles that have a high rate of theft such as, e.g. Mercedes, BMW, Audi, the rental car company will try to use vehicles that are less popular for countries such as, e.g. Italy, the Czech Republic or Poland.
For the largest part, you will be able to find the information on the countries you are allowed to travel to in your rental contract. However, in some cases there are exceptions, which we at CMS can apply for in your name.
Already when reserving, please also remember to inform the rental company if you will be spending longer periods abroad. The reason for this is to ensure that you can receive a vehicle that will not have to be exchanged during your stay.
In addition to this, please also be aware of the fact that, in the event of suffering a vehicle defect when abroad, it could occasionally be more difficult to realise a vehicle exchange than you might be accustomed to in Germany.

Should you have received an incorrect invoice following the vehicle rental, it goes without saying that we would be happy to assist you.
Our bookkeeping department will take care of this matter and try and clarify the facts with the rental car company. Following this, you will receive a new invoice.
Please contact:

Here, an overview of our fleet of vans you can rent from us.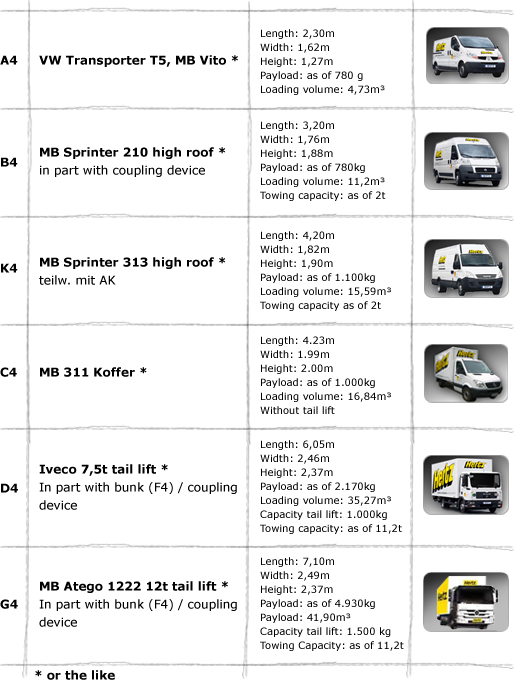 As in every year, the question arises regarding winter tyres.
As a basic principle, with our car rental companies, winter tyres are charged for between 01.11.-01.04., and here the costs vary among the different car rental companies.
Use the following links to find an overview of what you will be requiring at what time, and how the winter tyre obligation is dealt with here in Germany and elsewhere in Europe.
Prior to returning your vehicle, please ensure that you have filled the tank. Many car rental companies charge a much higher price for subsequently filling up the tank, than the actual price charged per litre at the petrol station. By means of this, your refuelling costs can quickly double or even triple.
If you arrive during business hours, please be sure to walk around the vehicle together with a rental car company employee, to once again ensure that there is no new damage to the vehicle. Should any damage be ascertained, the rental car company will fill out a notification of claim with you. More information on this can be found at "Accident - what to do?".
At most of the stations you can also return your rental vehicle outside of the business hours, by means of a so-called night-time drop off. In this case, please note that you are still responsible for the rental car until the employee of the station has received the key (at the next opening time). Please also note that, when parking the vehicle, you do not park it in a no waiting area, and also that it is not parked in front of entrances or obstructs other road users.
As a general principle, you do not have to clean your rental car. Needless to say, the rental car company is delighted to find a clean vehicle, but in the event of more serious soiling, it can also pass on the cleaning costs to you.
A few days after having returned your vehicle, you will receive your final invoice per post. Pay. Done.

When you are driving a vehicle that exceeds a maximum permissible weight of 3.5 tons or, when using a trailer, exceeds a weight of 3.5 tons, tradesmen are obliged to use a tachograph. At the same time, you must make use of the tachograph if your vehicle is equipped with such an EG control device, also if you are driving at less than 3.5 tons of vehicle load capacity.
More information can be found here here.

Once you have reserved a vehicle via us, you will receive a written confirmation from us.
Should you have requested a cost absorption when reserving, the confirmation, with signature and stamp must be sent to the respective fax number, located right at the top of the reservation confirmation.
When renting, the employee can find your reservation under the booked driver name or via the reservation number. When renting a vehicle, you will require a valid ID card, must be at least 21 years old and have been in possession of your valid driver's licence for at least one year without interruption. These documents must be presented in the original when picking up the vehicle. The rental car company may not accept any copies, as there is no possibility of verifying their authenticity.
Apart from this, a valid payment method must be provided when renting. Payment methods can be EC or credit cards or also an own payment method of the car rental company, such as vouchers or O.T.T.O.s. Most commonly, so-called debit cards are not accepted by the car rental companies. Therefore, please be sure to verify this when reserving. In the event of cost absorption, you have provided the payment method by means of your fax to the station. You can also directly present the signed and stamped fax when renting.
Once your rental contract has been created at the station, the hand-over of the vehicle is done together with you, where possibly already existing damages can be recorded. Please also be sure to take a very close look here, as you will be signing this document. Should you only subsequently notice a damage, it is frequently problematic to succeed at proving to the rental car company that you did not cause this.

In the event of an accident or damage to the vehicle, it is important always to involve the police. Should they not wish to come due to "smaller" damages, you should visit a local police station to record the incident in writing.
Please always write down the following:
Date,

Time,

The name of the police officer you contacted and

the duty station
Please write down this information in the accident report.
Following this step, it is important to contact both the rental car company and CMS, so that this can also become known in the damage department of the car rental company. Naturally, this also applies when you have booked a reduction of the excess insurance.
The rental car company will require you to provide a file reference from the police, and it would like to have a filled-out notification of claim, which we have received from our providers and deposited here for you, and which we will then send to you automatically by mail.
Please be sure to forward these documents to us or the rental car company promptly and not only when returning the vehicle. This is because, in the event of an accident caused by you, the other party to the accident will probably contact the car rental company in a timely manner.
Please also note that it is not only damage to other passenger cars that has to be reported but, e.g. also damage to buildings, persons, crash barriers, countryside damage (trees, grass strips etc.) or other objects, and also when your rental car has been burgled. This will always be a case of a liability compensation claim of another party, which will be presented to your rental car company.
Should your vehicle no longer be in running order, our providers have the following hotlines:
Hertz: +49.(0)800.801.480.1
Buchbinder: +49.(0)180.282.424.6
Europcar: +49.(0)40.520.188.100
Enterprise: +49.(0)1806.556.126